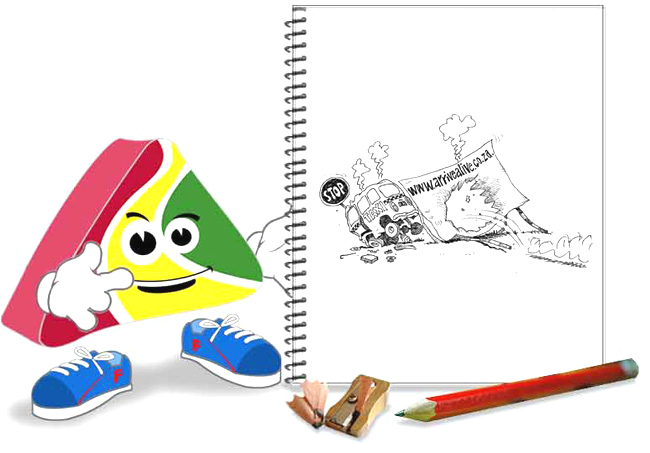 Road Safety Cartoons
Over the past few years many cartoons have highlighted the problems facing road safety in South Africa. These cartoons tell a story of the hazards on South African roads and can be used effectively to provide further education on road safety statistics as well as advice / tips on how to combat these dangers.
Fred Mouton from "Die Burger Newspaper" has kindly provided some of these drawings - and the development team of www.arrivealive.co.za will be adding some more of these to the web site for the benefit of the younger generation and educators.
Also view the Cartoons on Taxi's and Road Safety kindly provided by Mama Taxi [ Deni Brown and Gavin Thompson]
The statistical data used in this section has appeared in the different sections of content elsewhere on the arrive alive web site and especially in the "Crash Book" compiled by the Department of Transport after the compilation of all the accident statistics at the end of 2004.
These cartoons include
Road safety in South Africa
Speeding
Roadworthiness
Cycling safety
Overloading
Drowsiness
Pedestrian safety
Hijacking
Motorcycling safety
Taxi safety
Truck safety
Rules of the Road
Road Conditions
Road Rage
Road Safety Fact
Every day an average of 36 lives are lost on our roads
100 people are seriously injured on our roads every day
Road Safety Hint
We should all try to assist in enhancing awareness of road safety
Report bad driving and let us all obey the Rules of the road