License / Learner Applications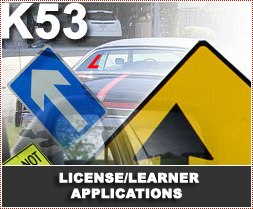 License / Learner Applications
This was a pass rate of 39.3%.
* There had been 1.95 million applications for learners' licenses of which 1.074 million had been issued or a pass rate of just more than 55%.
Reasons for so many failures
Asked why there was such a high failure rate and such a long waiting period for licenses, the Minister of Transport said the South African pass rate "is in line with, for example, that of the United Kingdom, the basis for the South African driving test".
"The big difference is most likely the quality of driver training available in the United Kingdom.
"Second, there are problems with access to driver training, especially in the rural areas.
Third, quite a number of people have the attitude that driving is simple and as soon as they have mastered the principle of clutch control they believe they will pass the test, which is far from the truth."
* 1.2 million Applications for driving licenses had been made during 2006 and 474 320 had been issued.
Assistance for Learner Drivers /Drivers
* iDrive.co.za
The South African Driving School Instructor Search website

* k53.iblog.co.za
K53 Information to obtain and pass your k53 learners license test, drivers license or becoming a driving school instructor

* SA Learners.com
This website has been developed to assist you in completing your Department of Transport Learners License test successfully.

* Trafficsigns.co.za
Your free K53 Text book online. You can also do mock tests approved by Traffic Authorities to test your knowledge of road signs, rules and vehicle controls.

* Learn2Drive3D.net
Learn2Drive3D is the first software application featuring interactive 3D simulations to hit South Africa's young learner drivers.

* Pass Your Learner's Easily.com
The Information Site for Learner Drivers & Concerned Motorists in South Africa

* mydriverslicence.co.za
Pass Your Learners & Drivers Licence Easy And Find The Best Advanced Driving School In South Africa

* GetYourLearners.co.za
Helping you pass your Learner's Licence test for free.

* K53passright.co.za
Free comprehensive Learner license tutorials with 3d graphics and animation.

* www.africanlicence.com
We help students pass the Learner's Licence test and become safe, skilled drivers. We enable students to study simple concepts, practise relavant questions, and discuss with friends.

This comprehensive pack covers everything you need to prepare for all aspects of the Learner's and K53 Driver's Licence tests.

Learner's Licence Test – everything you need to know for the test
K53 Driving Licence Test – all the K53 procedures explained in detail, supported by easy-to-understand animations and video clips
Hazard Awareness Skills – 30 interactive video clips to test your skills and help you become a safer driver

* www.k53-test.co.za/
The K53 Test Learner's and Driver's Licence website offers you the best preparation before taking the official test given by the Traffic Department. You can find information about the test, what you need, how to book… and you can test your knowledge online. Practise with our online test and learning materials now.

This new K53 website offers helpful information related to the South African driver's licence.

It includes info about the South African learner's licence test as well as the K53 test – the practical test for a driving licence in South Africa, which consists of a yard test and a road test..

Many South Africans would like to get their learners and drivers licence the right way. But often odds are stacked against us when we enter the examination room or the instructors vehicle to pass out. Some research has provided the following reasons for this:

Learners do not have access to resources or support to be well prepared for learners tests or driving licence tests.
Learners can not afford the costs of a tutor services or to purchase a booklet (with questions and answers)

Somewhere along the line, an official refused to pass deserving candidates unless he or she gives in to some form of bribery.

Unfortunately, as a result, many candidates, deserving of a licence, fail and conversely, undeserving candidates become licensed drivers – making our roads more hazardous to the rest of us.

Because of these challenges and threats, Learn 4 Licence was created.