Stopping Sight and Driver Reaction Time

Stopping Sight Distance
S=dr+db
S=stopping sight distance
dr=driver reaction distance (decision distance - combined observation, identification and decision distance)
db=braking distance (action distance)
dr=v.tr
db=(v*v)/(2g(f+-G))
v=speed
tr=driver reaction time (varies from 2,5 to 2,8sec)
g=acceleration of gravity
f=coefficient of friction between tyres and pavement (varies with speed – for wet, glazed asphalt it varies from about 0,45 at a speed of 10km/h to 0,2 at a speed of about 70km/h)
G=average grade
The above distances depend on whether a vehicle goes into a skid or not – distances increase drastically when vehicles go into a skid.

The type of vehicle (vehicle mass – together with speed relating to momentum) also plays a role – for example : in emergency situations a light passenger car doing in the order of 100km/h needs about 60m to stop, a truck weighing less than 5t would require about 70m and a truck weighing between 5t and 10t would require in the order of 80-90m (both doing about 100km/h). (In all these cases vehicles do not go into a skid situation and distances given do not include driver observation and decision distances).
Speed plays a major role in driver observation, recognition, decision and reaction time. In the case of a hazard or an incident on the road, the driver of a medium size motorcar driving at a speed of 120 km/h will need a total distance of about 227 metres from the point of observing a hazard and taking evasive action until the vehicle comes to a standstill. For a driver driving at a speed of 180 km/h this distance more than doubles to about 480 metres. Information on the total observation, recognition, decision and reaction distances required for various sized motorcars and speeds on a flat section of road are given in the graph below.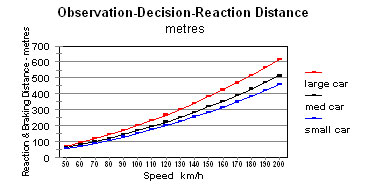 Required Stopping Distance - metres
Decision distance plus Action distance
Speed
km/h
Small
Car
Medium
Car
Large
Car
Heavy
Vehicle
60
60
66
77
116
70
78
86
101
154
80
99
109
129
197
90
121
135
159
246
100
146
163
193
300
110
174
193
230
359
120
203
227
271
424
130
235
263
314
495
140
269
301
361
570
Required Stopping Time - metres
Decision Time plus Action Time
Speed
km/h
Small
Car
Medium
Car
Large
Car
Heavy
Vehicle
60
5.73
6.44
7.76
12.37
70
6.50
7.32
8.87
14.24
80
7.27
8.21
9.97
16.11
90
8.03
9.09
11.07
17.98
100
8.80
9.97
12.18
19.86
110
9.56
10.86
13.28
21.73
120
10.33
11.74
14.38
23.60
130
11.09
12.62
15.49
25.47
140
11.86
13.51
16.59
27.34
Also View: