Yearly Report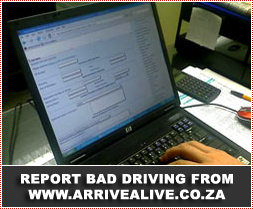 Yearly Report on Voluntary Public Traffic Observer Reports
The National Traffic Call Centre at the Road Traffic Management Corporation has compiled a report on the progress made with reports of bad driving from the public. Interesting information in these reports includes a summary of the number of public traffic observer registrations per province and per year from 2003 till middle 2007. It also reflects on the day of the week that the traffic observers have been most effective:

Traffic Offences Reported Per Day-Of-Week Per Province
2003-2007
2003
2004
2005
2006
2007
Also view the following sections of content:
The National Traffic Call Centre has from time to time offered a summary of some of the interesting reports with feedback and responses from the public. This feedback is shared with the public on the road safety blog at www.roadsafety.wordpress.com and confirms that the reporting of bad driving is playing a part in improving road safety in South Africa.