Bus Safety / Truck Safety
In recent times many people have raised the question: " Why are so many people dying on our roads in bus accidents?" The role of bus operators in road safety efforts was highlighted by the Saulspoort Dam accident. A Carte Blanche investigation on bus safety focused on a possible reduction of the speed limit applicable to buses, more stringent roadworthy tests as well as the dangers of drowsiness amongst bus drivers.
To understand the difficulties facing bus operators in enhancing road safety, it is important to understand who the role players are and the efforts that are undertaken to implement specific safety strategies.
The Bus industry is a vital part of the economic development of South Africa. One of the most important role players in the Bus Industry is SABOA – The South African Bus Operators Association. The web site of SABOA [http://www.saboa.co.za ] provides valuable insight on the bus industry in South Africa.
The bus industry in South Africa has for many years made a vital contribution to the economic development of the country. As a provider of services it has, and continues to provide, mobility to millions of people who are dependant on public transport to get to and from work, go shopping, seek employment and to transport pupils to school. According to available statistics 80 percent of South Africa's population is totally dependant on public transport for their mobility needs.
The National Department of Transport has identified as part of the "Road to Safety 2001-2005 Strategy" a need for the introduction of a policy that regulates certain operational safety issues for all bus, taxi and freight operators, to ensure that passengers and freight are moved in a safe, reliable and cost effective manner. In order to address this operational safety issues, the Department has decided to commence with the development of a vehicle quality management system for bus operators. The South African Bus Operators Association had already initiated some development work for a quality management tool for the bus industry, this effort has since laid a platform for the development of management system for the bus industry. This code is known as SANS 10399 [ SOUTH AFRICAN NATIONAL STANDARD – QUALITY MANAGEMENT SYSTEMS : REQUIREMENTS FOR BUS OPERATORS ]
The objectives of this code are to provide a basic minimum quality standard that will promote the movement of passengers in a safe, efficient and reliable manner. It is therefore the intention, to create a platform on which transport operators can base their quality policies and to ensure that the quality systems that are currently being managed by them, meet the highest standards.
The commitment of all role players to enhance bus safety in South Africa is highlighted by recent discussions and the implementation of specific strategies. For more information visit the following links:
Also visit the following sections: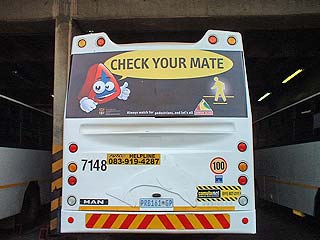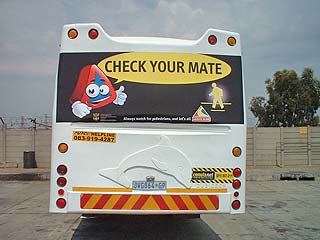 Safety an important feature in the advertisements by Intercape