Safety of Pedestrians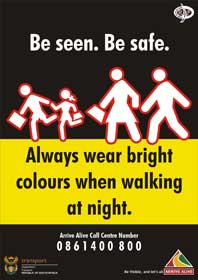 Walking in Traffic
The safety of pedestrians is one of the major concerns for the transport and traffic authorities in South Africa. There are at present several initiatives to enhance pedestrian safety. Unfortunately the past development of roads, informal settlements and general levels of intoxication amongst pedestrians are major stumbling blocks. There are certain strategies to take note of when walking in traffic and these include the following:
Walk on the Sidewalk
Stay on the sidewalk and crosswalks. Avoid walking in traffic where there are no sidewalks or crosswalks.
If you have to walk on a road that does not have sidewalks, walk facing traffic.
Cross at Intersections
Most people are hit by cars when they cross the road at places other than intersections.
Look right, left and right for traffic
Stop at the curb and look right, left and right again for traffic. Stopping at the curb signals drivers that you intend to cross. Cross in marked crosswalks and obey the signal.
See and Be Seen
Drivers need to see you to avoid you.
Stay out of the driver's blind spot.
Make eye contact with drivers when crossing busy streets.
Wear bright colors or reflective clothing if you are walking near traffic at night.
Carry a flashlight when walking in the dark.
Do not let kids play near traffic or cross the street by themselves. Kids are small, and drivers may not see them if they run into the street.
Watch your kids
Children should not cross streets by themselves or be allowed to play or walk near traffic. Kids are small, unpredictable, and cannot judge vehicle distances and speeds.
When kids get older, teach them three things to do before they cross the street:

Try to cross at a corner with a traffic light.
Stop at the curb.
Look right, left and then right again to make sure no cars are coming. [ Vehicles will first be approaching from your right side!]
Also View: