Buying and Selling a Vehicle – Informed decisions and the Vehicle Retailer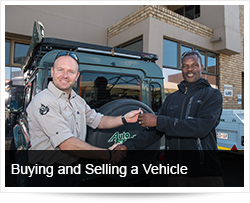 On the Arrive Alive website, we offer advice with the objective to make roads safer for all road users. This includes not only safe driving advice but also information on aspects pertaining to the vehicle.
Vehicle finance and car insurance experts provide "need to know" information to our vehicle owners. It is important to recognize that the informed vehicle owner and driver will also make more informed decisions - not only on safe driving but on vehicle ownership, insuring the vehicle and effective vehicle maintenance.
In this section, we would like to take a closer look at vehicle ownership as seen through the eyes of the vehicle retailer. What does the sales process involve, what are the expectations from clients and how can the vehicle owner be best advised? We do this through a Q&A with the guys from Auto Excellence
How long have you been in the vehicle retail business and from where do you operate?
A combined 29 years in vehicle retail. Showrooms, workshops and office are all stationed in Centurion CBD. 1289 South Street. This is not only where everything ends. Being the largest specialised independent Land Rover specialist in the Southern Hemisphere, we sell and deliver nationwide.
What would you describe as your specific area of expertise?
Mainly specialising in the Land Rover Brand. Purchasing, servicing, selling and all major repairs on the Land Rover product. We also do have a variety of other 4x4's and SUV's available.
How important experiences for the vehicle salesperson?
Experience plays a major role when it comes to the actual "selling" of the vehicle. In particular with the Land Rover brand. General product knowledge is very important! Without a general idea of how, for example, the 4x4 system or drive train of a vehicle works, it could become quite difficult and challenging to sell a vehicle with confidence and pride.
One of the most important aspects of "experience" is people skills. Without good manners, listening skills, respect and a lot of patience, your salesperson is heading for disaster and will cause your business a lot of harm.
How do you ensure that your sales team is kept updated with the newest information with regards to products etc?
We provide them on a continuous basis with the latest product brochures, industry news, and necessary changes within the motor industry with particular emphasis on the Land Rover brand. We also send them on regular 4x4 driver training that will provide them with a better understanding of the product they sell, increase their actual product knowledge and also build confidence and trust when dealing with a potential client. These tools will enable them to sell with confidence and pride.
When a potential client expresses an interest in purchasing a vehicle - What would be the top 6 questions to enquire from that client?
Qualify! Qualify! Qualify!… We cannot put more emphasis on this. The qualification process is the most important thing when making that first contact with a potential client. (Apart from leaving a good impression)
So many times we see sales consultants do everything according to the book except asking the right questions. By not asking the right questions and determining your client's exact needs, you are losing and wasting valuable time which could have been spent on that definite "incoming phone call".
Here are a few questions which could be used as guidelines:
Do you have a potential trade-in?
Is there an outstanding settlement with a bank on your trade-in?
What do you expect to get on your trade-in?
If there is a substantial shortfall on the trade-in price, have you got additional funds to cover the shortfall?
What would you be comfortable paying monthly for your new vehicle and over what period?
How serious are you about buying? If we agree on a deal today, are you ready to take delivery this afternoon? (Be cautious of the "tyre kickers"!)
What documentation do you require from a client to initiate/start the vehicle sales process?
Signed "Offer to Purchase"
Proof of residence
Valid Clear copy of RSA ID book
Valid RSA driver's license
Proof of income (Salary advice) should the client apply for finance.
Bank statements + business application forms should it be financed on a business.
Has FICA and other compliance requirements added significant workload to the vehicle retailer or would you say that it also provides some protection to both retailer and client?
Yes, most definitely! Since the implementation of the new FICA requirements, our workload has doubled with regard to paperwork. Unfortunately, there is no way around it but we have quickly become accustomed to it.
With so much fraudulent transactions motor dealers and financial institutions experienced in the past, it is absolutely necessary! FICA provides protection for both the client as well as the motor dealer.
What is the average time from the moment that the client expresses a desire to purchase to the moment of vehicle transfer?
Anything from 1 hour to 1 week! Depends on how willing both parties are to work together in order to get it done.
What would delay the time it takes to buy a vehicle?
There are many factors that do play a role with regard to the final delivery of a vehicle. A few examples of these factors are:
Is there finance involved? Is the client arranging his own finance or could we assist by doing that on his behalf? We prefer handling the finance on our side because it just speeds up the process.
If the client decides to pay cash for the car, from which bank is the transfer coming? Is it an overseas bank or local? The funds could take up to 10 working days should it be an international bank transfer.
Does the client have all the necessary documentation in place?
Verifying bank guaranteed cheques.
What are usually the major frustrations for a salesperson to have the sale concluded?
Lack of urgency on the client's side
Wrong/inadequate documentation supplied by the client.
Indecisiveness by the client.
Not responding to any phone calls or e-mails logged.
Client not being honest with you.
Which aspects do you find are clients unaware of and which you deem as very important for potential vehicle owners?
Warranty and maintenance plans. Clients just want to drive their new vehicle and don't familiarise themselves with the terms and conditions of their newly bought vehicle's warranty or maintenance plans. On delivery, everything gets explained by the sales consultant about the ins and outs of the manufacturer's warranty to the client. The client even signs a document where he/she acknowledges that everything was explained to them and still manages to mess it up!
Additional handling or on-road fees. Clients don't realise that there are additional costs involved when buying a vehicle. (Roadworthy, mechanical check overs, license and registrations etc.
What are the best ways for you to protect yourself from fraudsters?
Always verify documents, cheques, driver's licenses and other important information.
Do HPI's( Higher purchase information checks)
Verify all original registration certificates
Verify mileage on trade-ins
Trust your "gut". If you smell a rat… walk away!!!
Verify all transfers as far as possible. This has become especially important with internet transactions.
Wait for the funds to reflect in your account before delivering a vehicle.
Conclusion
There is much more to safe driving than climbing behind the steering wheel and pressing down the accelerator. We all need to equip ourselves with information to make safe decisions to best protect ourselves, our passengers and also other road users.
Road safety requires cooperation and a common objective amongst all role players to ensure safe transport – from those selling the vehicle, financing and insuring the vehicle to those who maintain, repair and ultimately drive the vehicle!
[A word of appreciation to Anton Geyser and Louis Venter for the assistance received with this Q&A]
Also, view information on:
Vehicle Finance and Road Safety
Buying a Quality Used Car and Safety on the Road
Car Insurance and Road Safety Education
Vehicle Buying, Auctions and the Auction Facilitator
The Online Vehicle Retail Market and Safely Selling Vehicles Online