Road Safety and the Suppression of Bus Fires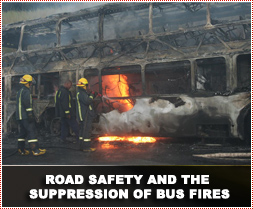 Introduction:
On the Arrive Alive website we developed information in a section titled a
Guide to Bus Passenger Safety
. This includes safety information from the point of embarking to disembarking the bus and getting home safely.
Perhaps the biggest fear for any passenger on a bus is not being in an accident, but being entrapped by fire.
Bus manufacturers, research institutions and others involved in the Transportation industry are doing much to increase not only the safety of bus transport - but also to specifically focus on the suppression of bus fires.
What are we doing do enhance the suppression of bus fires?
Fredrik Rosén, marketing manager for SP Technical Research Institute of Sweden, Department of Fire Technology has offered to assist in providing and sharing information on the suppression of bus fires. He has 13 years' experience in fire resistance testing of building products and construction, as well as products for marine and offshore applications. He's currently involved in the development of the new international test method for fire suppression systems in engine compartments for buses and coaches.
Statistics from the insurance sector show that the number of total loss cases of fires in buses can be reduced dramatically by the introduction of requirements for fire-extinguishing systems in engine compartments. The most common type of fire on buses starts in the engine compartment. SP is, therefore, preparing an international test standard that can be used when specifying requirements for the efficacy and function of such systems. Also contributing to research are contributions and input from a reference group with representatives from the suppression manufacturers, insurance companies, bus associations, transit authorities, bus manufacturers etc.
The project aims to create a safer environment for both passengers as well as for the bus drivers. By installing fire suppression systems in engine compartments for buses and coaches you will allow a safe escape for the most vulnerable passengers i.e. disabled people, older people as well as school children.
Article on Improving the Fire Safety of Buses
Fredrik Rosén has allowed us to share from an article on the suppression of bus fires that appeared in in
Homeland Security Today
:
About 1 percent of all buses suffer some form of fire incident each year. And some of these fires have serious consequences. A recent example is the tragic bus fire near Hannover, Germany in November 2008 that killed 20 people, making it the worst bus accident in Germany in 16 years. Another example is the bus fire near Wilmer, Texas on September 23, 2005 in which 23 nursing home passengers were killed. The bus was transporting nursing home residents evacuated from the path of Hurricane Rita.
In Sweden alone, an average of three fires in buses and coaches are reported each week. Most of these fires occur in the vehicle's engine compartment located at the rear of the bus or coach, making it difficult for the driver to discover the fire. Experience from Sweden - where the installation of detection and fire suppressions systems is actively encouraged by the insurance industry - shows that the installation of an active fire protection system is an important safety measure.
Reason for and Nature of Bus Fires
Fires may occur for several reasons. Engine parts such as the manifold and turbocharger may reach temperatures high enough to cause leaking fuel or oil to ignite. Fires may also occur because of short circuits in electrical wiring and the overheating of engine components or the braking system.
The conditions in the engine compartment are challenging for any extinguishing system, e.g.: ventilation fans in the engine compartment often produce high levels of airflow and many compartments have large openings that can lead to an efficient oxygen supply for a fire and the suppression agent may be rapidly removed with the air flow.
Furthermore, bus engine compartments are often geometrically complex and/or very compact, making it difficult to ensure that extinguishing agents actually reach the fire source. Finally, fuel and lubricants are not the only flammable materials that are present. Fires may also reach solids like plastics, rubber and insulation materials that can be more difficult to extinguish than liquid fuels.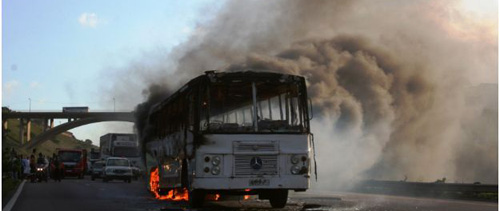 A Nordic research project
Due to the large potential risk for catastrophic fires resulting in many casualties, the Norwegian and Swedish road administrations initiated a bus research project in 2005, "Bus Fire Safety," in conjunction with SP Technical Research Institute of Sweden.
The overall objective of the project was to investigate the fire safety of buses and to produce recommendations for improvements. The project was divided into the following sub-projects, each of which resulted in a separate report:
Statistics of bus fires in Norway and Sweden based on bus fires between 1996 and 2004;
Fire tests of interior materials used in buses;
Fire risks in buses;
Test method for fire walls;
Test method for fire-suppression systems in engine compartments;
Fire simulations; and
Full scale trials
The full-scale tests revealed that once flames reach the passenger space, flashover will occur within a short time. Current requirements for interior materials (UNECE regulation 118) only require them to pass a simple horizontal spread of flame test (FMVSS 302). But this is clearly insufficient, as materials with poor fire performance can be approved. The fire safety requirements for other means of mass transportation like trains, passenger ships and airplanes are considerably more stringent.
Following completion of the Bus Fire Safety research project, the SP Technical Research Institute of Sweden has been engaged in international bus fire safety education. Swedish technical expert presented proposals for better test procedures for materials at the UN United Nations Economic Commission for Europe (ECE) Working Group on General Safety Provisions (GRSG). The introduction of relevant levels of safety into regulations is ongoing.
US research, legislation and insurance statistics
In response to the Wilmer bus in the US in 2005, the Volpe National Transportation Systems Center performed a study for the Federal Motor Carrier Safety Administration (FMCSA), the objective of which was to gather and analyze information regarding the causes, frequency and severity of motorcoach fires caused by mechanical or electrical failure.
As a result of this study, the US Department of Transportation issued a Motorcoach Safety Action plan. In this plan, the National Highway Traffic Safety Administration (NHTSA) identified the need to upgrade motorcoach fire safety requirements and to evaluate the need for a Federal Motor Vehicle Safety Standard that would require installation of fire detection and suppression systems on motorcoaches.
In 2008, NHTSA initiated a two-year fire safety research program with the National Institute of Standards and Technology (NIST). The objective is to better understand wheel well fires and their propagation into the passenger compartment, the vulnerability of the passenger compartment to such fires and countermeasures and detection systems.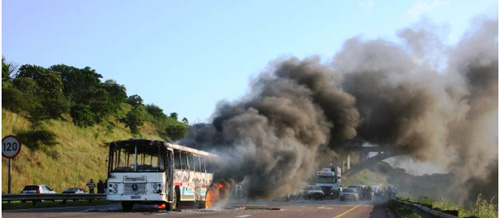 Automatic Fire Suppression Systems (AFSS)
Although there is no national requirement or standard for Automatic Fire Suppression Systems (AFSS) on buses, there are individual requirements at the state level. In addition, some Original Equipment Manufacturers (OEMs) and operators have voluntarily chosen to install automatic fire suppression systems. The commercial coach market began making automatic fire suppression systems standard on buses equipped with wheelchair lifts, and optional on some buses that are more than five years ago.
The use of AFSS has grown steadily. Several states like Florida, Georgia, Pennsylvania and New York have implemented requirements for fire protection systems on wheelchair lift school buses and para-transit buses largely because of the additional time that it takes to evacuate handicapped passengers.
City transit buses have been using AFSS for more than 15 years. Early adoption was driven by concerns over risks associated with alternate fuels such as methanol. Today, the majority of transit operators are specifying AFSS on their buses. The American Public Transportation Association formed a Bus Safety Working Group that consists of operators, OEM's and AFSS manufacturers. The group has developed and published four standards and recommended practices related to bus fire safety.
US federal regulations though only require that a bus carry a small fire extinguisher, even though there is little possibility that a fire extinguisher will be useful in extinguishing any bus fire. At Lancer Insurance Company, the largest insurers of buses in the US, nearly two dozen bus fires are reported each year. The majority of these fires are electrical, turbo or brake related, and they generally engulf the engine compartment. Without a fire suppression system, these fires often result in serious physical damage to the bus. The average cost of these fire claims is $80,000 and takes into account the variety of ages and value of the buses that are involved in these fires.
Clearly, fire suppression systems are more effective in managing bus fires. They also give passengers precious time to evacuate. Bus fires are a serious issue in the US and will continue to be a potentially fatal hazard until there are efficient tools to fight the fire, requirements for better engine maintenance and adoption of widely recommended safety measures.
Improvements of bus fire safety in Sweden
Swedish insurance industry statistics indicate that the number of total losses due to bus fires can be reduced dramatically by the introduction of requirements for fire suppression systems in engine compartments. Prior to 2004, there were six to seven complete burnouts of buses annually in Sweden due to fires that started in the engine compartment.
In 2004, Swedish insurance companies took the concerted action to require that all (insured) buses be equipped with a fire suppression system in the engine compartment. Since then, no insured bus has been completely consumed by such fires. Still, at least 40 percent of buses in Sweden are not equipped with fire suppression systems because they either aren't insured or are self-insured.
The reason for the significant decrease in devastating burnouts seems much more complex than the simple introduction of fire suppression system requirements. In 2001, the Swedish Motor Vehicle Inspection agency introduced compulsory fire safety inspections of buses - an action that almost certainly led to improved overall bus maintenance and a reduced number of bus fires.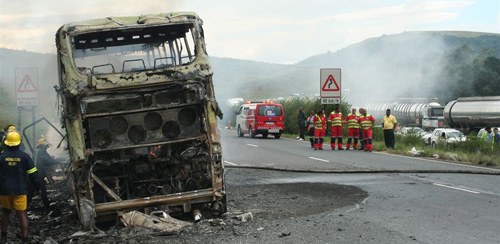 International standard for fire suppression systems – a new approach
Presently, there is no international standard for evaluating fire extinguishing systems in bus engine compartments. As a result, the SP Technical Research Institute of Sweden is preparing an international testing standard that can be used when specifying requirements for the efficacy and function of bus fire suppression systems. This work is being carried out on behalf of the National Road Authority in Sweden.
The objectives of this project are:
Creation of a safer environment for passengers and bus drivers worldwide, in particular with respect to safe escape for vulnerable passengers i.e. those with disabilities, the elderly and children;
Reducing the loss of property; and
Designing a standard that will evaluate the firefighting performance of different suppression systems in a well-defined, objective and comparable way
The project testing includes a focus on fire extinguishing capability (i.e., not detection) on diesel fueled buses (89 percent of Swedish buses are diesel-powered) and only engine compartment ignition (roughly 70 percent of all fires start in the engine compartment). In addition, only rear-mounted engine compartments will be covered in the testing. In the future, buses that run on alternative fuels will be considered.
The draft testing methodology that's been developed thus far simulates warm and hot surfaces, ventilation and a complex geometry and a range of fire sources. The extinguishing systems tested are installed in the test chamber, after which the fire sources are ignited, individually or in concert. Several different scenarios are set up and studied with various fire sources, airflows, aperture sizes and hot-surface temperatures, but with a fixed position of the system's extinguisher nozzles for all test scenarios. The test results indicate the strengths and weaknesses of the system, as well as whether or not the minimum standard requirements have been met.
Design issues and challenges
When designing a fire suppression system for buses and motorcoaches, there are some critical aspects that need to be considered. Presently, there is no existing international standard, and as a consequence, suppression manufacturers must verify and authenticate their systems using systems defined by relevant local or national transit authorities and insurance companies. This can be extremely difficult and do not typically allow for comparison of different suppression systems.
Unresolved issues include whether the engine should be shut down during a test, whether the fuel system and fan should be shut off and whether the system activation should be delayed to give the vehicle operator the opportunity to move to the side of the road or out of a tunnel if a fire is detected while the bus is rolling.
Currently, "performance requirements" are prescribed by the local transit authorities in their contract with transport providers. Clearly, a standardized approach with broad acceptance would simplify the inherent problems. Ideally, this would be in the form of a UN ECE regulation, or, alternatively, an international standard with broad market acceptance that could provide a basis for a level playing field for manufacturers.
The robustness of the fire suppression system and its components is also critical. The discharge system should be designed so that it does not fail before it is activated and discharged - the system must remain operational even after being exposed to heat, cold, vibrations, temperature changes, corrosion, stress, dirt soot and road dust.
Different Types of Fire Suppression Systems
There are many different types of fire suppression systems on the market and all have different extinguishing agents like water mist, dry agent, aerosols, gas, etc. These systems all behave differently in terms of their firefighting performance, and they all have their pros and cons with regard to their mode of extinguishment.
Certain systems also have challenges concerning re-ignition protection while others may have difficulty with suppression of large and/or small hidden fires. Most systems work well in confined spaces where the concentration of the extinguishing agent remains high for a long period of time, but have difficulty maintaining performance under the high airflow conditions often present in bus engine compartments.
What now?
During 2010, SP Technical Research Institute of Sweden carried out a pilot study in relation to the development of a test method for fire suppression systems in engine compartments in buses and motorcoaches. All results from the study and a first draft of a test protocol were presented in SP Report 2011:22.
This report signified the start of Phase 2 of the project in which a more in-depth analysis of the proposed methodology has been conducted. An engine compartment mock-up has been built in which the impact of various parameters is being examined. The aim is to design an enclosure with "typical" bus engine compartment characteristics (enclosure size, hot surfaces, obstructions, ventilation and openings) rather than to create a replica of a specific engine type. In the generic enclosure, different petrol-based fires will be initiated that will test the ability of an extinguishment system.
Phase 3 started in early June and involves running tests with different fire suppression systems, dry systems, water mist, aerosols, etc.
Coinciding with this project is the creation of a "Reference Group" of representatives of suppression manufacturers, insurance companies, bus associations, transit authorities, bus manufacturers, etc. whose objective is to present a draft proposal of a standard at the spring meeting of the GRSG group at UN ECE in 2012. This would be followed by a revised and updated international UN ECE Regulation No 107.
The American Public Transportation Association, American Bus Association, United Motorcoach Association, Commercial Vehicle Safety Alliance and Lancer Insurance are among the US industry and trade groups who are represented.
[Recognition to Fredrik Rosén, marketing manager for SP Technical Research Institute of Sweden]
Also view: