Road Safety and Preventing Smash-and-Grab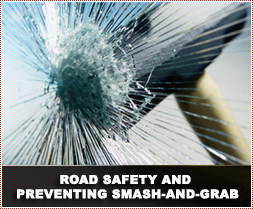 Introduction and Definition
Crime and criminal activity require from South African motorists alertness and caution to more than only other vehicles.
Even though progress has been made in fighting hijackings and vehicle theft, there has been an increase in theft from vehicles. Many of these are what can be defined as "Smash-and-Grab".
In this section, we would like to discuss the crime of smash-and-grab in more detail and offer recommendations to motorists on preventing this sudden invasion of privacy and likely loss of possessions.
What is a smash-and-grab crime?
A smash-and-grab criminal turns a pleasant drive into a nightmare when criminals are pouncing on unsuspecting drivers. The criminal act is usually characterised by smashing through some sort of barrier (e.g. vehicle window) while the car is stationary at traffic lights or stuck in slow moving traffic and grabbing something of value (e.g. jackets, handbags, laptops, etc).
A smash-and-grab usually play on the element of speed and surprise -The violent smashing of the window at the passenger side places the motorist in a few moments of silent paralysis – just enough to get hold of the valuables and flee the scene!
These car burglaries can be expensive, from the cost of repairs to the vehicle and windows to replacing your belongings. The victims will most likely be traumatised and feel victimised for quite some time.
What is being targeted?
The thieves are usually after valuables which they can easily identify from outside the vehicle and sell as easily once removed from the possession of the motorists. Items targeted include:
Purses, handbags and wallets
Laptop bags, briefcases and backpacks
Shopping bags
Cell phones, MP3 players and tablets
Loose change and CDs
Keys
Where are drivers most at risk and what are the methods used?
We find in the media mentions and warnings of so-called "Hot spots". Even without warning signs, the cautious driver would be able to identify areas where he/ she would be most at risk. These tend to be places where criminals know that vehicles will be stationary, where drivers can be easily distracted and where the criminal can make a quick and effective escape.
Who is most vulnerable?
The victims are most often single drivers with belongings on the passenger seat.
Criminals tend to focus on female drivers well knowing that they are less likely to chase after them.
Drivers who are distracted are most vulnerable – those busy on the cellular phone or with a cigarette in the hand.
Vehicles left unattended away from the crowds and with valuables visible are easy targets for a quick smash-and-grab.
Methods used and Modus Operandi
Criminals will focus on those areas where they know traffic is often congested and where vehicles will remain stationary for a while.
These criminals also will often work in pairs where one will pose as a vendor, distracting the attention of the driver while the other party will perform the smash-and-grab from the passenger side.
Objects are sometimes placed on the road and motorists make the mistake of leaving their vehicles to remove these objects. This is when the vehicles are then easily targeted.
Communication technology such as cellular phones has also enabled these criminals to identify potential victims from a bridge or position of elevation and to relay this message to their partners in crime further along the road.
The person making the smash-and-grab will most likely select the scene of the crime as an area where a fast getaway would be possible for him and any pursuit would be difficult.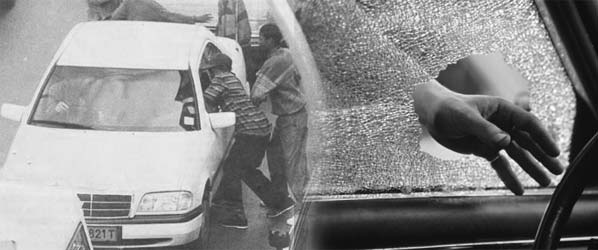 Advice on preventing smash-and-grabs
Even though it is not always possible to avoid the so-called "hotspots" where these criminals prey on unsuspecting motorists, it is possible to reduce the risk of becoming a smash-and-grab the victim. Motorists can make these burglaries more difficult. Smash-and-grab car burglars don't want difficult challenges and would rather prefer to move on when they suspect hurdles to the swift execution of these crimes.
We would like to advise the following measures:
Safe Driving
Lock all your doors and close the windows when driving - Never open vehicle windows or doors for strangers.
Avoid opening your windows or getting involved in discussions with street vendors or anyone handing out flyers.
Be constantly on the lookout for suspicious looking characters.
Always be conscious of your surroundings and remain alert when coming to an intersection or stopping your vehicle.
Be wary of people standing at intersections – They may be innocent but perpetrators mix with these people while waiting for an opportunity to pounce.
If you encounter obstacles such as rocks or tyres do not get out of your vehicle to remove them -immediately reverse and drive off in the opposite direction.
If it's late at night, slow down well in advance so that the light changes green by the time you reach the intersection.
Leave a gap between you and the car in front of you to give you room to escape (i.e. drive away from the scene), if anything should happen.
Be especially wary whenever you see broken glass lying on the road. If the pieces of glass are still scattered across the road, chances are that a smash-and-grab occurred just recently.
Taking Away the Attraction
Reduce the chances of becoming a target by removing that which the criminals are trying to get their hands on.
Smash-and-grab car burglars aren't exactly criminal masterminds. Many simply act on impulse.
Don't have bags, cellular phones, briefcases or other valuables visible inside the vehicle – valuables only attract thieves who may break your car window.
Hide your valuables. - Car floors, dashboards and seats are not good places to leave items.
If you can't take valuable items with you, hide them out of sight in your trunk.
Safety when Parking
Thieves target car parks. Always park your car in attended parking lots.
When parking at night ensures that you always park in a well-lit area.
Keep your car visible. Thieves do not want witnesses - You can help prevent a smash-and-grab by parking your car in crowded areas near pedestrian and vehicle traffic.
Never sit in your vehicle without being conscious of your surroundings.
Lock your doors and roll up your windows when you park
Activate your security system
Consider window tinting (if permitted by local laws)
Avoid using the console or glove box as mobile lockboxes
Don't hand a car burglar your keys. Leaving your key on the dash or in the ignition is an invitation to a burglar. And keep in mind that if you have a great hiding place for a spare key (in your wheel well or above your sun visor), a thief has thought of it, too.
Stow your belongings like shopping bags and laptops in the trunk before you get to the parking area.
Window Safety Film
What is "smash-and-grab" film?
Protective safety film is pasted on vehicle windows to help prevent smash-and-grab incidents. The protective film is usually tinted so that no one can see into the car, while also preventing the windows from shattering. While the glass breaks, the film holds the pieces in place, which further protects you from broken glass.
Although smash-and-grab film may not prevent smash-and-grab incidents from taking place, it will give you a few extra minutes to recompose yourself and drive away safely.
If you don't have smash-and-grab film installed, leave your window open slightly (approximately 3 cm, but less than 5cm) whilst driving. This makes the glass more flexible and more resistant to shattering if they're struck by a sharp object.
Safety film is however not only a deterrent for criminals. Other benefits include:
It protects passengers from being hit by dangerous glass splinters when the glass breaks in side-impact accidents.
Windows film can reject up to 99% of the sun's harmful UV rays, helping to protect you against skin cancer, and your car's interior from fading and cracking.
Safety film forms an invisible shield to reduce glare and resultant eye fatigue.
The film also improves your comfort by keeping the vehicle interior cool and comfortable in the scorching heat, reducing the load on the air conditioning and thus saving fuel.
Keep in mind that some car insurance companies provide a discounted premium to vehicle owners installing window safety film on their vehicles.
Conclusion
The cautious driver will be able to prevent most incidents of smash-and-grab. If there is nothing to grab there is no reason for the window to be smashed! Trust your instincts. If you see suspicious activity, find somewhere else to park. We would like to urge motorists to report suspicious activity to the proper authorities - you can help prevent others from becoming a victim of a smash-and-grab or another crime!
Also view:
Visual Eyewitness Identification of Suspects of Vehicle and other Crimes
LLumar Window Film and Road Safety
Road Safety and Your Windscreen