Road Safety Strategy in South Africa
Road Safety Strategy in South Africa
National Road Safety Strategy: 2006 Onwards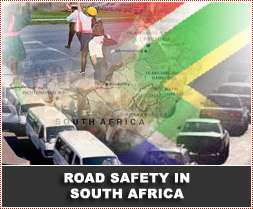 Click on the links to view the PDF files.
Table of Contents
Cover, contents and executive summary
Part One: The South African 2006 Context
Part Two: Targets
Part Three: Strategic Imperatives
Part Four: Current challenges
Part Five: The Strategy
Part Six : Conclusion
Part Seven: Resourcing
---
The Road to Safety 2001- 2005
The "Road to Safety Strategy " was launched November 2001 by the Minister of Transport at the time, Minister Dullah Omar.
The objective of the Strategy was to reduce crashes, deaths and injuries on South Africa's roads by 5% year-on-year until the year 2005
The plan has set out a plan of action, and identified key deliverables, which should have ensured timeous delivery on the commitments made in the strategy.
Four key thematic areas, namely traffic law enforcement and law compliance; operator, vehicle and driver fitness; infrastructure, management and information systems; and communication, public education and participation were defined as areas of action.
Nine project teams were identified to ensure that the Road to Safety Strategy is implemented, namely
Arrive Alive
Driver Fitness
Vehicle Safety
Pedestrian Safety
Fraud and Corruption
Traffic Information Systems
Fleet Operations Management
Professionalism in the Traffic Fraternity
National Traffic Information and Call Centre
Click here for the Road to Safety Strategy document
Road to Safety Strategic Plan 2006-2009
In 2006 Road Safety has been addressed by the Minister of Transport, Minister Radebe in the Department of Transport Strategic Plan. The Strategic Plan is more than a mere road safety plan, and focuses on service delivery through the implementation of the principles of Batho Pele across all spheres of Transport. The following areas of delivery have been identified:
Public transport infrastructure and operations for 2001 and beyond
Public Transport
Freight
Roads
Transport Regulation
For a better understanding of the Strategic Plan 2006 -2009, click on the following PDF Files :
Part 1:
Part 2:
Strategic Overview and Key Policy Developments: 2006/09
Vision, Mission, Values and Strategic Objectives
Legislative Mandates
Part 3:
Service Delivery and Regulation through Public Entities
Budget Programs and Sub Program Plans
Part 4:
Departmental Programme Strategic Plans
Programme 1:
Administration, Ministry of Transport, Communication Services, Management Services and Financial Services
[ PART 1 ] [ PART 2]
Progamme 2:
Transport Policy, Research and Economic Analysis
Programme 3:
Transport Regulation and Accident and Incident Investigation
Programme 4:
Integrated Planning and Inter-sphere Coordination
[ PART 1] [ PART 2]
Programme 5:
Public Transport
Part 5:
Programme 6:
Transport Logistics and Corridor Development
Programme 7:
Public Entity Oversight and Economic Regulation
List of Abbreviations