Mountain Bike Events / Planning and the Safety of Bikers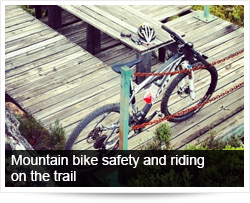 On the Arrive Alive website, we have a page of content on Mountain Bike Safety with advice and recommendations for safe cycling/ biking. The sport of mountain biking is a fast-growing sport and with sports tourism such an important part of tourism in South Africa we decided to approach one of the top mountain bike event planners with a few questions on the importance of safety in the planning process:
Can you provide a brief overview of mountain bike events that you have/are planning?
Dryland Event Management (Dryland) owns and operates various mountain biking and trail running events within the Southern, Eastern Cape and Western Cape. The aim is to provide world-class events that covers all sectors of mountain biking and accommodates athletes from the novice to the seasoned professional. This objective is reached by supplying the product (events) that cater for all levels of participation, not always within one event, but often single events aimed at certain groups – hence our diverse event base from 7-day stage races to family orientated one-day fun rides. These include:
Fairview Attakwas Extreme
Du Toit Tankwa Trek
36ONE MTB Challenge
Red Stone MTB and Trail run
Hessequa mountain bike challenge
36ONE Storms River Traverse
Ladismith Cheese 7Weeks poort MTB
Bridge Cape Pioneer Trek
We are constantly planning and looking at new ideas and events, often ideas get ditched quickly to later re-emerge as a successful event. At Dryland we will never run out of new plans. Currently, we have a major undertaking planned for 2015; we should launch this by mid-2014. Let me not convey too much, but I will tell you that it involves the two oceans hugging this vast continent of Africa…enough said, just watch this space!
Are there any specific regulations/laws/parameters that you have to operate within when planning an event?
Definitely, we are governed by rules as stipulated by CSA and UCI, the local and international cycling bodies respectively that provide the cycling-specific regulations for cycling events. The more general safety rules that apply to all events are governed under law by The Safety at Sports and Recreational Events Act 2/2010. This act covers a wide range of stipulations that organisers have to adhere to and strictly follow. This includes a comprehensive safety and security plan that has to be presented for each event and covers issues like communication, evacuation planning, risk categorization and event medical planning.
How important is the focus on safety when planning an event?
Riders trust you with their lives when they embark on a race through a remote and desolate area, therefore we rank safety as our highest priority.
What do you do on the route planning side to optimize the safety of riders?
Route planning involves primarily providing riders with a great riding experience within certain safety parameters. Factors we consider to ensure safety en-route are challenges involving patient evacuation, distance and terrain and availability of radio and other means of communication.
Not all races/ events are the same – can you provide insight on how they differ in terms of safety and the requirements - i.e. long endurance races versus shorter races?
The length of a race certainly determines a different approach to the safety aspect, but the terrain coupled with distance and weather conditions is what we look at. On a longer race, dehydration and rider fatigue are contributing factors to incidents. Riders often do not drink enough fluids, become dehydrated with all the accompanying side effects that make for a dangerous situation. Rider fatigue on longer events also creates a challenge where a lack of concentration leads to mistakes and eventual crashes.
What are the biggest safety concerns for the planners of a mountain bike race?
A lack of response time is our biggest concern. Response time, in my opinion, is where it is at. With all major incidents, if a quick response and evacuation of a patient are possible, then the outcome is usually always positive. The involvement of a motor vehicle in a bicycle accident is also a major concern, the outcome is seldom positive for a rider.
What are the most common mistakes riders make which adds to the safety concerns of the event planner and emergency response guys?
Rider error is a huge contributing factor to major crashes or incidents. Riders often overcook a sharp turn or attempt a descent down a technical section way to fast and then a serious crash can occur.
Do you meet with a medical services provider in the planning phase and discuss the response to any medical emergencies?
We certainly do. During planning, we discuss general safety issues and as the event draws closer, we get into more detail. The days pre-race we get into the last detail with regards to weather conditions, rider numbers and possible fire or flooding risks.
What are the most important aspects to discuss in such a brief?
Possible areas of risk and medical response to these situations are discussed – the quickest and safest evacuation routes and means of evacuation (by air or land) are among these.
Do you communicate any safety messages or provide participants with information on safety prior to a race?
We do, the official race briefing on the start line will point out any hazards, explain the route markings and also inform riders of changes on the route and updated weather forecasts for the day ahead. From 2014 onwards, starting with the Fairview Attakwas Extreme, we will conduct the race briefing via video to the mobile and web-based platform. We have found that on the bigger races the riders are so excited on the start line that they do not pay attention to the briefings, hence this innovation.
Under which circumstances would you have to cancel an event due to safety concerns?
To cancel an event will only happen in really extreme conditions, on all our events part of the contingency plan includes an alternative route for the day and usually, this will be sufficient in case of flooding or fire. Fire danger remains the single biggest challenge due to the unpredictability of this hazard. We will cancel a race when the safety of our riders or crew is in jeopardy en where we do not have access to alternative routes. A wildfire in the direct area of the route that is raging out of control will definitely lead to a race being cancelled.
Do you analyse safety matters after the event or request feedback from racers on safety matters?
We do a detailed de-brief post-event to discuss issues that arose and to find avenues of improving the service. Riders actually feel safe if the route markings are clear and informative and they frequently observe a medical official en-route. In my opinion, riders only assess safety once they are in a situation where medical back-up is required – in these situations we do ask for their feedback.
What is the best advice you can offer to riders on safety when participating in an event?
Hydrate efficiently, not too much and not too little either, descent within your capabilities and concentrate.
Are there any specific aspects not covered in these questions/ answers that you believe needs to be shared?
The events industry is fast growing and more and more service providers are entering the market – it is therefore very important that this industry is strictly regulated in terms of rider safety. Many event organisers are operating without the necessary safety, medical and communication measures in place, in other words, the operations are conducted outside of the parameters of the Safety at Sports and Recreational Events Act. Safety of participants or non-negotiable and this issue needs to be addressed.
Questions kindly answered by Henco Rademeyer
Dryland Event Management
Tel: +27 44 279 2423
Fax: +27 44 279 1096
Also View: