Legal Duties after a Road Crash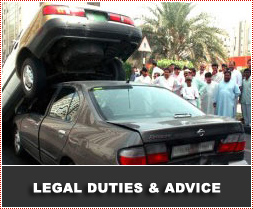 STOPPING THE VEHICLE
Although involvement in a motor accident is always a traumatic experience, try to remember that nearly all accidents have legal consequences. For instance, a criminal charge of driving without a license, drunken driving or culpable homicide may follow. Civil consequences may include claims for damage to property, or for personal injury, and may arise whether there is a criminal charge or not.
The law, furthermore, sets out clearly your duties if you are involved in, or contribute to, an accident on a public road in which any other person is killed or injured or suffers damage in respect of any property or animal. You must:
Immediately stop your vehicle;
Ascertain the nature and extent of any injury sustained by any person;
If a person is injured, render whatever assistance that you are capable of;
Ascertain the nature and extent of the damage sustained;
Give your name and address to any person who has reasonable grounds for requiring them, the name and address of the vehicle's owner if it is not your own and the vehicle's registration number. If you do not give this information to the police or traffic officer at the scene of the accident, you must report the collision at a police station or at an authorised office of a traffic officer within 24 hours, with your driving licence. If you could not do so because of your injuries, you must report it as soon as is reasonably practicable. (Where details are recorded at the scene by a police or traffic officer, you should have a valid driving licence in your possession. Failure to produce this licence is an offence.);
Not take any intoxicating liquor or drug having a narcotic effect unless, in the case of injury or shock, it is administered on the instructions of, or by, a medical practitioner. If you are requested by a police officer to submit yourself for examination by a medical practitioner, you may not take intoxicating liquor or a drug having a narcotic effect before the examination and before you have given the particulars and reported the accident as required in the preceding paragraph.
A driver who fails to stop after an accident when required to do so by law is liable to be prosecuted and, if convicted, fined up to R36000, or sent to prison for up to nine years, or both. If you can prove that you did not stop because you were not aware of the accident, you may avoid prosecution. If not, the courts will presume that you were aware of the accident.
You do not have to stop or report an accident if, for example, you collide with a tree and damage only your own car, and injure nobody or only yourself. If, how-ever, you damage someone else's property - a vehicle, say, or an electric-light standard - you must stop and then report the incident at the nearest police station.
Your first duty after stopping is to 'ascertain the nature and extent of any injury sustained by any person', and to assist as much as possible. If you know nothing about first aid, don't do anything that might aggravate an injury. Rendering assistance includes ensuring that qualified help - such as an ambulance or a rescue unit - is summoned. Unless you yourself are obliged to go for help, you should remain at the scene until a police officer permits you to leave. You can be criminally charged for failing to render assistance.
When two cars are involved in a collision and nobody is injured, the drivers may decide to pay for their own repairs and to forgo a claim against each other. The police need not be called to the scene of such an accident, but it must be reported - by both drivers - at a police station within 24 hours. It is an offence not to report an accident in which another person's property has been damaged, or in which another person is injured, even if neither of the drivers intends taking legal action.
Also visit the following sections: