Monitor and Repair of the Roads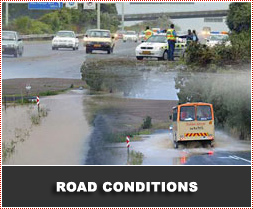 Road Conditions and Road Safety in South Africa
One of the most important aspects of Road Safety is the condition of our roads. It is of the utmost importance for road safety that the roads are constantly monitored and repaired. The commitment of the South African Government to the transformation of the Public sector has lead to the founding of the National Road Agency in April 1998. The mandate of the South African National Road Agency limited is to develop, maintain and manage the national road network. This agency plays an extremely important role in enhancing road safety. Information on this agency is available on the website www.nra.co.za
"South Africa has 7'200Km of National Routes, and altogether a network of 65'000Km of roads. A summary of the named routes in South Africa is available on the Roads Travel Info Portal. This will provide you with excellent information on the routes and the distances to your destination.
Road Conditions and Emergency
In emergency situations caused by national disasters / adverse weather conditions the following contacts would be able to provide information on whether specific roads are safe:
The National Road Agency: www.nra.co.za

This web site provides regular updates on Road Conditions and Closures. This site also provides information on the expected travel patterns over December.
The Automobile Association: www.aa.co.za

The Automobile Association provides updated Road Reports on the AA website under the section "Advice and Information"

Enquiries can also be made by contacting the AA Travel Department at 011-799 1400
South African Weather Service: www.weathersa.co.za

The South African Weather Service provides a "Travellers Forecast" with daily updates on adverse weather conditions.
Department of Local and Provincial Government / Disaster Management Centres

www.dplg.gov.za

This website provides a valuable link from the section "Government sphere" to Municipal Information. These municipalities would be able to provide information on road conditions in those municipal areas.
Capegateway: www.capegateway.gov.za

Cape Gateway is a single point of access to government information and services for the citizens of the Western Cape. This website also provides access to contact numbers of municipalities and police stations in the Western Cape
Report Hazardous Road Conditions / Call Centre

The public can assist by Reporting Hazardous Road Conditions from the Call Centre section of the Arrive Alive website. These Reports are submitted to the National Traffic Call Centre at the Road Traffic Management Corporation.