The Emergency First Aid Kit and Safety on the Road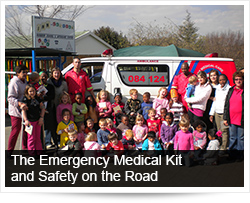 We should always do our best to be prepared to respond to any emergency.
Even though we may not be trained medical professionals there are often small bits of assistance we can provide with first aid and effective and fast response to smaller emergencies.
We always advise motorists to travel with a first aid kit or have a first aid kit available at home. This becomes especially important with small kids picking up those nasty bumps, burns, cuts and bruises.
Many of us are however not well organized and could do with some advice on what we may need in such an emergency medical kit.
Levtrade's Classic Range of First Aid Kits is designed for travelling and outdoors. They cover the 4 main essentials of first aid: Cuts, Bleeding, Burns and CPR.
The Classic bags are nylon with extra accessories such as a belt attachment which can easily attach to motorcycles and are compact so they can be put in a saddlebag or your backpack. The handles are durable for a secure grip. The Classic range of kits is ruggedly built, organised and well-thought-out to allow easy product access. Affordable and available in a variety of colours.
Most importantly each kit in the Classic Range contains Burnshield. So whether you are burning yourself on a hot exhaust pipe, or dealing with blisters from a new pair of riding boots, there are many reasons to carry a first aid kit, especially with Burnshield inside.
Remember to always replace used items, if you use a plaster, gauze or bandage, replace it when you get home. An empty first aid kit is a useless first aid kit and could mean the difference between you or a friend surviving a bad crash and dying on the side of the road waiting for an ambulance. It's the only responsible thing, to have what you need to stay safe in a variety of situations without having to rely on technology or the kindness of strangers.
Features
Durable handle for secure grip
D-ring clamp attachment
Belt Attachment
Lockable
Durable and flexible zip
Compact
Lightweight
Easy product Access
Suitable For
Travel
Home
Outdoor
Camping
Contents include 26 Items:
x2 Burnshield Hydrogel Sachet 3,5ml
x1 Solace SPF 30 Sachet
x1 Conform Bandage 50mm
x1 FAD No. 2 (50x75mm)
x1 Triangular Bandage – Non Woven
x2 Gauze Swabs Non-Sterile (75x75mm) 5's
x10 Plasters Waterproof
x1 Plastipore Plastic Tape (12mmx5m)
x1 Levtex Pair of Gloves
x1 First Aid Scissors
x1 Plastic Forceps
x1 Safety Pins (12's)
x1 CPR Mouthpiece
x2 Antiseptic Cleansing Wipes
Contents include 44 Items:
x1 Burnshield Dressing 100mm x 100 mm
x3 Burnshield Hydrogel Sachet 3,5ml
x1 Solace SPF 30 Lip Ice
x1 Aquashield Chafing Cream
x1 Conform Bandage 75 mm
x2 FAD No. 2 (50 mm x 75 mm)
x1 FAD No. 3 (75 mm x 100 mm)
x1 FAD No. 5 (150mm x 200 mm)
x1 Triangular Bandage – Non Woven
x1 Progauze Swabs Non-Sterile (75 mm x 75 mm) 25's
x10 Plaster strips
x3 Anchor Plasters
x1 Plastipore Plastic Tape (24mm x 5m)
x2 Pair of Gloves
x3 Cotton Buds
x1 Eye Pad Non Sterile
x1 Eye Shield
x1 First Aid Scissors
x1 Metal Forceps
x1 Safety Pins (12's)
x1 CPR Mouthpiece
x3 Antiseptic Wipes
x1* Antiseptic Cream
x2 Insect Repellent Wipes
Also view:
A First Aid Kit for Motorcyclists
Equip Yourself for a Roadside Emergency
Health Precautions and Safe Travel
CPR and Road Safety - Know more and Save Lives