Quad Bike Insurance and Crashes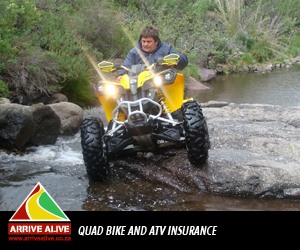 Introduction and need for Quad Bike Insurance
On the Arrive Alive Road Safety website we have given much attention to the safe driving of several modes of transport. These include motor vehicles, 4x4's, motorbikes, bicycles and even quad bikes. We have decided to provide recommendations not only on the safe driving of these vehicles – but also on how to find the correct insurance and protect the owners from further harm through vehicle loss and theft. In this section, we would, with the kind assistance from Quad24, assist our quad bike owners to find the quad bike insurance policy to match their needs as quad owners.
Quad bikes, also known as all-terrain vehicles or ATVs, are essentially four-wheeled motorbikes designed to be driven off-road on land, snow and ice. These vehicles are now used in recreation areas and golf courses, farms, in the forest, nurseries etc. They have become a part of many tourism initiatives and the perfect way to enjoy the more remote areas of Southern Africa.
Because of its popularity, Quad Biking has also found its way in to competitive sport. Quad Biking is one of the fastest-growing sports in the world. Motorsport South Africa (MSA) is responsible for issuing licenses and regulating the races in South Africa. The two major disciplines for regulated quad racing are closed-circuit motocross and national off-roads. In South Africa, there are estimated 50, 000 quad bike owners and there are over 4, 000 people who participate in races regulated by Motorsport SA.
It is important that the correct insurance be found for the purpose the specific quad bike will be used for. We would like to provide important insights to assist all our quad bike owners.
Quad Bike Accidents and Quad Bike Insurance
A brief overview of quad bike injury data confirms the need for quad bike insurance. Statistical information on quad bike accidents and fatalities are very scarce. At present the Road Traffic Management Corporation compiles all the fatal crash accidents and quad bike accidents are grouped with three other groupings of motorcycles under a category for motorcycle accidents. An additional important factor impacting on data collection is that most of these accidents occur on private property since quad bikes are not allowed on public roads.
Recent research from the Johns Hopkins University in Baltimore focused on 60,000 patients injured in ATV or trail bike crashes and revealed more about the dangers of riding quad bikes.
How serious is the injury risk of quad bike accidents?
A quad bike is more likely to kill its rider than an off-road motorcycle.
Quad bike-related injuries are six times more likely to result in hospitalization and 12 times more likely to result in fatalities when compared to bicycle-related injuries per 1,000 vehicles
Quad bike-related injuries tend to be much more severe and more often require surgery and hospitalization than injuries received playing rugby, soccer or riding a bike.
Quad bike paediatric victims are younger; more severely injured and stay longer than the average trauma patient.
The quad bike/ ATV is much bigger and often crashes the driver.
Wearing rates of helmets has been identified as another factor - 60% of motorcyclists wore one, but only 30% of those injured on an ATV was so protected.
What are the typical types of injuries?
Injuries range from minor bruising and lacerations to more serious head injuries.
Quad bikers commonly sustain broken bones including the wrists, forearms and ankles.
Dislocation of the shoulder and elbow has also been noted after a fall.
The most dangerous injuries are sustained following a rollover or bike crash. This may include serious spinal injuries, blunt or penetrating head, chest and abdominal injuries, as well as a broken pelvis or severe bleeding.
We would like to urge all quad bike owners to consider their own safety and prevent injury even before they read further on how to protect their quad bikes from loss or damage!!
Specialist Insurers / Unique characteristics of the Quad Bikes/ATV's
Quad Bikes/ ATV's are specialized vehicles and they differ vastly in engine size and type of use. Quad bikes can have either manual or automatic transmission, and steering is done via a set of handlebars. The engines are similar to those of a motorbike, typically ranging from 50 to 1000cc.
Today's bikes fall into two broad categories: "sport" ATVs are two-wheel drive and capable of speeds of up to 120kph; while four-wheel-drive utility vehicles are primarily designed to handle rough terrain and have a top speed of around 100kph.
The type of coverage you need for your quad bike depends on the type of riding you do. Types of quad insurance include insurance for leisure quads, sports quads, utility quads, ATV quads, and dune buggies. There is even special insurance available for competitive riding.
Not all insurers have the expertise to provide specialised insurance for quad bikes. Many motorcycle insurance companies who offer quad bikes insurance don't appreciate the different needs of quad bike owners and the multiple ways in which quad bikes differ from motorcycles. The more caution and responsible the way they are used, the lower the accident risk.
There are however insurers who specialize in quad bike/ ATV insurance, and who have insurance products specifically designed for quad bikes. We would like to provide information to emphasize why special attention is required when considering quad bike insurance.
What is insured under Quad Bike Insurance?
Quad bike insurance can provide the following cover:
Full Comprehensive cover, while being used off road. This is damage from theft, fire, vandalism or any other covered peril
Insurance cover for fire and theft
Accidental/ collision damage - Damage to your quad bike from a collision with another ATV, rocks, trees and other obstacles
Third party insurance
Cover for race track use (subject to prior notice and some conditions)
Breakdown cover for the costs associated with towing if necessary
Road side assistance cover can include services such as battery jump-starting, tire changing, and locksmith services.
Cover for Fire Extinguishing charges
Cover for cross-border use, where cover is extended Cover is extended outside of South Africa to Namibia, Lesotho, Mozambique, Zimbabwe, Swaziland and Botswana.
It is worthwhile to consider and enquire about some extra options available, such as
Emergency Medical Evacuation service
Trauma Assistance
Optional personal injury cover
Optional cover for your helmet and all protective clothing up to a specific value.
We would like to advise that you ask the insurer a few questions as well. These could include:
Does my insurance cover riders of all ages?
Does my policy cover more than one individual?
Are the modifications and customisations to my bike also covered and has this been specified?
Am I covered outside of South Africa?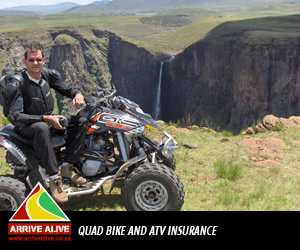 Quad Bike Accessories and Insurance
Those who use their quad bikes often, travelling wide and far, often spend a significant amount on customizing their bikes. It is important to read the terms and conditions of your quad bike insurance policy and to enquire whether these adjustments and accessories are covered.
This might include your helmet and any tools for instance. Both of these may add up to a tidy sum of money if they were stolen or damaged and had to be replaced.
Pay close attention to expensive accessories such as GPS devices and professionally designed chest protectors. Enquire from your insurer whether this could be part of your policy and whether they need to be specified in this or another policy.
How do we keep quad bike insurance premiums affordable?
On the Car Insurance Blog we provide advice and suggestions on how to find cheaper car insurance - but also on how to keep the premiums at a low. Much of the same advice also applies to ensuring quad bikes as it is not only the value of the quad bike that affects the insurance premium –but also how it is operated and how it is protected from damage and theft.
Several factors affect your insurance rates. While you can't control all of the factors that apply to you, there are a few things you can do. We would like to advise that quad bike owners consider the following:
Quote from two to three insurers and take time to compare these quotes.
Keep in mind that many specialist quad bike insurers might not be providers under an insurance aggregator agreement.
Always read the policy wording with attention and be aware of your obligations.
Keep you quad bike locked up as described by the policy wording so that there can be no issues should a claim for theft arise.
If you are travelling with your quad on a trailer, ensure that it is locked to the trailer securely.
Claims often arise when quads are stolen from a trailer. If it was not locked down securely the insurer might refuse to pay the claim.
Ride Your quad bike with care and caution - Maintaining a clean driving record and avoiding accidents that require you to file a claim can help keep your quad bike insurance rates low.
Choose your quad bike carefully – quad bikes with larger displacement engines, as well as those that are considered more aggressive machines, typically cost more to insure based on the history of claims for those vehicles.
Consider the security specifications that could reduce your quad bike insurance premium – some might stipulate extra security for when the quad bike is parked on the street or in overnight garaging/shed.
When you insure more than one ATV on your policy, you might qualify for a discount.
Conclusion and Advice
As is the case with motor vehicles –it is simply too much of a risk not to be insured. We would like to urge all our quad bike owners to be cautious when operating their quad bikes. It is most important to prevent bodily injury – and this would also go a long way towards preventing damage to the quad bike.
Accidents, however, do happen – and you will need to protect against the financial loss of damage and theft.
Also view:
Quad Bike/ATV Safety and the Training of Riders
Quad Bikes and Road Safety
Quad Bike Injuries
Car Insurance Blog
OUTsurance Quad Bike Insurance
Quad Bikes and Children