National Commuter Hotline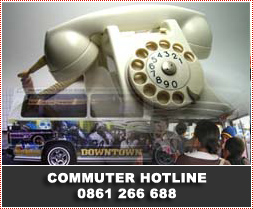 National Commuter Hotline 0861 266 688
OPENING STATEMENT BY THE CHIEF EXECUTIVE OFFICER
"If you have been late to work/ appointment or school because of A LATE BUS OR TRAIN. For your own sake and many other vulnerable South Africans who solely dependent on public transport, we urge you to please report the matter or your experience with us, no matter how small you may think it is. For us to be able to properly profile the plight of South Africa's commuters. It is our responsibility to collate scientific data with a view to enable government to provide us with long lasting remedies. Instead of allowing unscrupulous drivers victimize you, just write down the vehicle's registration number and report him/her.
Due to a high rate of fatalities and/or accidents, we would also like to know who you are, where you stay, which mode of transport you use to and from work!!

BACKGROUND INFORMATION: MISSION STATEMENT:CONTACT US: ABOUT US:CORE BUSINESS: COMMUTER SERVICES: SECRETARIATE SERVICES: INFORMATION SERVICES
BACKGROUND INFORMATION
The National Commuter Hotline was established in 2005, it was officially launched in partnership with the National Department of Transport on the 25th October 2005 at glamorous event graced by the MEC Thibedi representing the National Minister of Transport, Mr. Jeff Radebe.
WHY WAS NCH ESTABLISHED?
In a country where public transport is disorganized, unsafe, unreliable and unaffordable, it is just natural that information would often be manipulated so as to cover hideous acts of these subsidized service providers. NCH was launched to provide the first independent national hotline to solely protect the rights of vulnerable commuters majority, of whom, happen to be black and provide the department of transport with a scientific data which would enable it to plan prudently for the public transport.
MISSION STATEMENT
To provide public transport users with an independent platform, to lodge complaints (and/or compliment) against operators or drivers.
To become an information hub for government (all levels), Commuter Forums, Transport planners and operators.
To become a link between commuters, government and operators
To educate and protect the integrity of public transport users.
CONTACT US
Hotline : 0861 (commuta) 266 688
Or : info@nchsa.co.za
Fax : 086 612 7468
Website [ Will be available shortly] : www.nchsa.co.za
ABOUT US
As compared to many other contact centers the country might have seen, NCH is amongst a few that has been able to secure a buy-in of most if not all service providers in the transport sector. These being taxi operators, bus operators, rail including credible commuter organizations and forums across the country.
Public transport facilities (such as ranks, bus stops) are often exploited by unscrupulous individuals. Our customers find comfort in knowing that, NCH works directly with the South African Police Services (Crime Stop Unit).
NB. Our services are available to all the nine(9)provinces.
CORE BUSINESS
Our day to day work involves inter alia;
Query Management
Commuter Advocacy Services
Secretariat for our partner forums or commuter organizations
Legal Advise around commuter services; and
Information Center
QUERY MANAGEMENT

We (NCH doesn't) do not solve problems. South Africa needs to know that, credible organizations(taxi and bus associations) in the public transport sector are working hard to deal with unscrupulous individuals found in these organizations, as a result every query received is sent to an association in question or to the department of transport for enforcement particularly, when vehicles are (and when not) registered with any operating association.

COMMUTER ADVOCACY SERVICES

A substantial number of commuters arrive late at work/school/ or business appointment as a result of the late running of trains and buses. Since our country does not have Public Transport Ombudsman, commuters do not have a legal recourse for unprofessional and the poor quality of service received on day to day basis. No recourse when service providers break contracts entered into with prepaid coupon buyers(applicable to trains and buses). NCH has established a panel of high profile legal experts with the view to engage unscrupulous service providers.

SECRETARIAT SERVICE

Provincial governments are currently establishing commuter organizations with the view to profile the plight of commuters in provinces and/or regions. NCH can assist all organized and credible commuter organizations with secretariat service pertaining to their work.

INFORMATION CENTRE SERVICES

Soon, all enlisted partners, associates, service providers and transport activists would be able to receive periodic information on trends, projects and improvements around public transport.
WHICH QUERIES DOES NCH TAKE?
Driver behavior
Un-roadworthy vehicles
Late running of trains and buses
Risky driving/driver
Alerts on disputes and criminal activities
Environmentally hazardous ranks/stations
Overcrowding etc
NEWS FLASH !!!!!
The National Travel Household Survey 2003 concluded that public transport costs are unbearable and/or unaffordable. The National Commuter Hotline with one of the country's major banks would be launching a Travel Credit Card to assist millions of the commuting public to lessen the burden of public transport costs. The card would be launched in partnership with all progressive service providers.
All public transport commuters would qualify regardless of their income, credit history.
For the longest public transport user. If you commute to work by train/bus or taxi we would like to know for how long you've been using it and stand a chance to win lots and lots of prizes. Loyal public transport users stand a chance to win annual tickets, Airtime and many more. It all starts with telling us who you are, where you stay, what mode of transport do you use.
BUT primarily we would like to know everybody who use public transport, to assist with identification in an event of an accident.
For criminal activities in public transport please contact us or SAPS 0861 10 111
[Information provided by Isaac Lesole, CEO National Commuter Hotline]