Alco-Check and Road Safety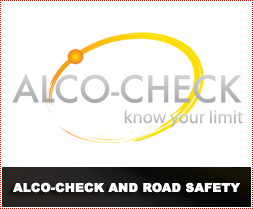 Alco-Check is a social responsibility-driven company that supplies breathalysers throughout South Africa. With branches in Cape Town, Durban, Johannesburg and Pretoria, we aim to educate people and create awareness of alcohol consumption and the effects on blood alcohol content(BAC), we provide a tool in the form of Alco-Check machines that are available to patrons at the moment of truth.
The driving force behind our company is to reduce the amount of deaths/accidents on the
road due to irresponsible drinking and driving. South Africa has the largest percentage of deaths from alcohol-related accidents in the world.
Our aim is to create a sense of personal responsibility among people in South Africa, for
people to know their blood alcohol level and have a clear indication of when to stop drinking, therefore being able to make better decisions.
We want to change the way people drink and drive. We do this by giving people access to a mechanism that allows them to check their BAC and act responsibly by knowing their limits.
There are many myths and misunderstandings where alcohol consumption and its effects are concerned. Alco-Check aims to target these myths by educating people about the different factors that affect BAC and allowing people the opportunity to make sure that they are under the limit before getting behind the wheel.
There is also a large gap in the knowledge of rights and legal limits involved with Alcohol consumption and its consequences, Alco-Check also aims at focusing on making this information more available to people in the hope that this knowledge allows people the opportunities to make better, life-saving decisions.
Also View: